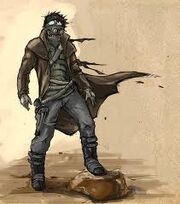 Blowbrickss again. Decided to make a new class of soldiers for the upcoming map I'm making.
Background and Weapons
Edit
The Hellsion Stormtroopers are an elite band of warriors from the Hellsion region. Similar in use to the Prog Shocktroopers, the Hellsion Stormtroopers, called Stormers for short, use a special crossbolt, called the Stormer Crossbolt. The crossbolt fires two, high-powered crossbow bolts at far distances. While it's not accurate after fifty meters, it has a high range. They also use rapiers sometimes, but the devastating power of the Stormer Crossbolt usually keeps the range from coming closed.
Notable Stormtroopers
Edit
The man named Keothor, Keo for short, is an ex-Stormer, removed from the group after being accused of treason. He crossed many miles to the land of Kritana, and joined the bounty hunter Denton's new crew. He is a nice person, but is an elite, devastating killer that uses two of the Stormer Crossbolts that he kept.